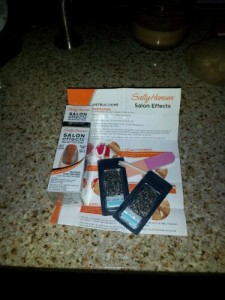 Have you seen these new nail polish stickers advertised?  Well I have, and recently I met someone who tried them and they looked great so I decided to give them a try myself. Their official name is Sally Hansen Salon Effects -Real Nail Polish Strips.  They come in 23 colors and patterns and they cost $9.99 ($10.88 w/ tax).  A little steep if you ask me but if they last two weeks, like my aquaintence said, I'd say that it was worth it.  I chose Frock Star, the glitterly disco ball looking strips as my test run.
First, like a good girl, I read the instructions.  I won't bore you with the verbatim but basically is said to:  Clean, file and buff  nails with the 3-sided emery board they provide for you (the file side sucked by the way, but the buffers were decent); push back cuticles with the orange wood stick they also provide; size match the polish strips to your nails (they give you 2 sets of 8 various sizes); peel back both protective sides; apply the sticky side to your nail; smooth out and trim off the extra with the emery board.  No base or top coat required.
Since this was my first time trying out the nail polish strips I wanted to them to look good, so I really took my time.  It took me over an hour to apply them, but like I said, I was going slooowww and I was taking notes to report back to you all.  My guess is next time if I rush, I could do this in 15 mins.  Plus no drying time! Woo hoo!  I've got a toddler, who has time for drying nails?  Sally Hansen wins on that feature alone.
I really dig the exciting patterns that Sally Hansen offers – but I wouldn't buy the solid colors.  What's the point? I can paint my nails solid pink anytime. It's not every day that I can make my nails look like fishnet stocking! I love the disco glitter claws that I have now, it is really attention grabbing and I've received a ton of compliments and questions about them.  I've seen and own many glitter polishes and no salon has ever produced a liquid polish this dramatic and cool before.
The downfall.  Which is more than likely my fault, 3 nails on my right hand are chipped already.  The reason I say this is my fault is because I veered away from the directions and decided that my tips would last longer if I tried to fold the strips over my nail in attempt to tuck them under.  This did not work.  Plus, the polish strips have real glitter in them and the metallic flakes got snagged and caused  large pieces to be pulled off.  I do not think that this would have happen if I did not try the above, or if I chose a smoother patterned polish strip.
Once the full set of  strips were on, it felt weird.  It didn't feel like the weight of nail polish it felt a little heavier and my fingers felt clumsy.  That feeling wore off by the next day and I'm quite comfortable with them now.  I can type, do my hair, tie my shoes, etc. and I feel secure that they are not going to come off.
Not one to waste my beauty products, I decided to use the extra strips.  They give you a total of 16 and they are long, so if you have short nails as I did, you can salvage the other half of the strip.  I used the extra for my toes.  What could it hurt?  If I couldn't stretch out the reminents and finish a full set of toes, no one was seeing my piggies in this weather anyway.  It worked and I have pedicture that looks very cool.  I wonder how these would hold up in the summer with the beach and pool hazards? Hmmm.
It has been three days with my new Sally Hansen Salon Effects – Nail Polish Strips and I have to say that I love them!  I would love them even more if they were around $6 a set but like I said if they last me two weeks (thats longer than most salon manicures at $15 a pop) then no complaints here.  Good job Sally!
PS. They say to remove them you just use regular nail polish remover.