Good Housekeeping May 2015 Issue:

SHOPLBT's Loop & Tuck Brown Leather Belt by Cobalt has graced the pages of Good Housekeeping May 2015 edition and is being worn by one of my favorite funny actresses Kathryn Hahn! This belt looks SO GOOD I'm so impressed with the entire fashion editorial. Thank you Good Housekeeping and thank you Lori Bergamotto, Kristen Saladino, and entire the style team. Pick up a belt and a copy of GH today!
Belt link: http://www.shopladybowtie.com/Loop_Tuck_Brown_L…/bgx0087.htm
Good Housekeeping Magazine November 2013 Issue: 
 Does this mean SHOPLadyBowTie gets the Good Housekeeping Seal of Approval? I hope so. Great feature on page 66 of this month's Good Housekeeping, showing how belts can enhance your wardrobe and how belts are the perfect accessory for almost any look. The Bruges Double Buckle/Strap Belt is a must have for fall looks! Thank you Good Housekeeping Magazine!
Woman's World August 26, 2013:
Click HERE to see and/or purchase this incredible belt on SHOPLadyBowTie.com
Free Shipping (U.S.)
Posted on June 7, 2013 on The Moment Photography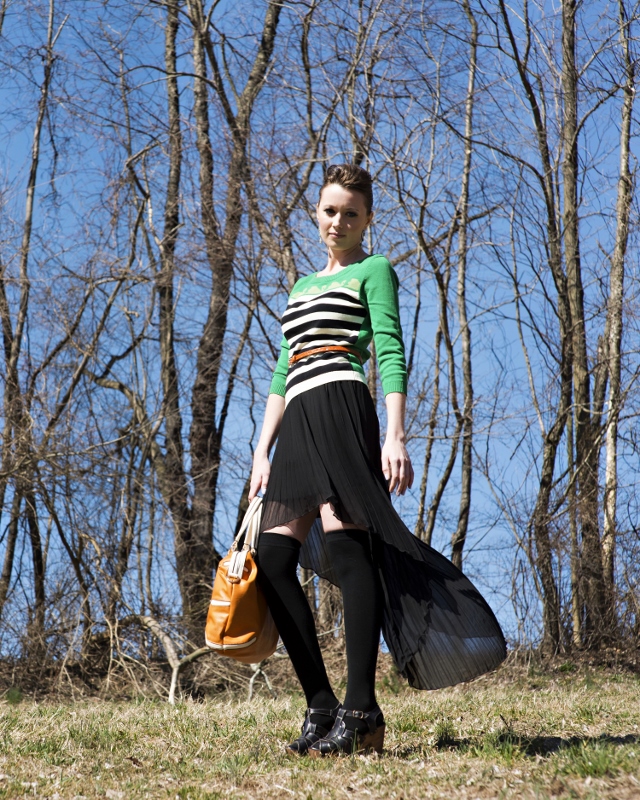 One of the most fun and rewarding types of photo shoots is a fashion shoot because there is a team of creatives involved to bring a vision to photographic life. This Spring I had the wonderful pleasure of working with Cori McConnell of Lady Bow Tie. Cori's world is one immersed deep into the love and work of fashion. She is a fashion blogger, a fashion show producer, and owner of Shop Lady Bow Tie, an online fashion boutique which makes her not only a fashionista in the know, but one that desires to bring affordable fashion to women everywhere.
Cori highlighted many unique pieces in our shoot with the purpose of creating Lady Bow Tie's Spring/Summer 2013 LookBook including her signature look, bowties as well as bags, shoes, sunglasses, scarves and exciting prints and patterns on dresses, tops, and skirts.
Hair & Makeup was done to Cori's exacting vision by Lisa Jersey Chappell, freelance makeup artist. What makes working with top notch professionals even better, is the fun we have together because everyone's passion is aligned! Our Models Sarah and Carmen were spot on in executing the vision and after a mighty long day of shooting in studio and outdoors, many hair, makeup, and clothing changes, we finished with the feeling that we all nailed it! Take a look at some of my fav shots and of course you must check out the LookBook, full of LadyBowTie's Style for the Brave!
- See more at: http://themomentphoto.com/fashion-photography-with-lady-bow-tie/#sthash.uzXnu8nC.dpuf
SHOPLadyBowTie in Glamour Magazine – May 2013
Wonderfully, the Flare Belt featured in this months Glamour magazine on page 113 on Look #12 is available at SHOPLadyBowTie now for $28. Great classic belt with a little bit of flare.
SHOPLadyBowTie's Natural Wonder Belt was featured in April's People StyleWatch. Thank you People!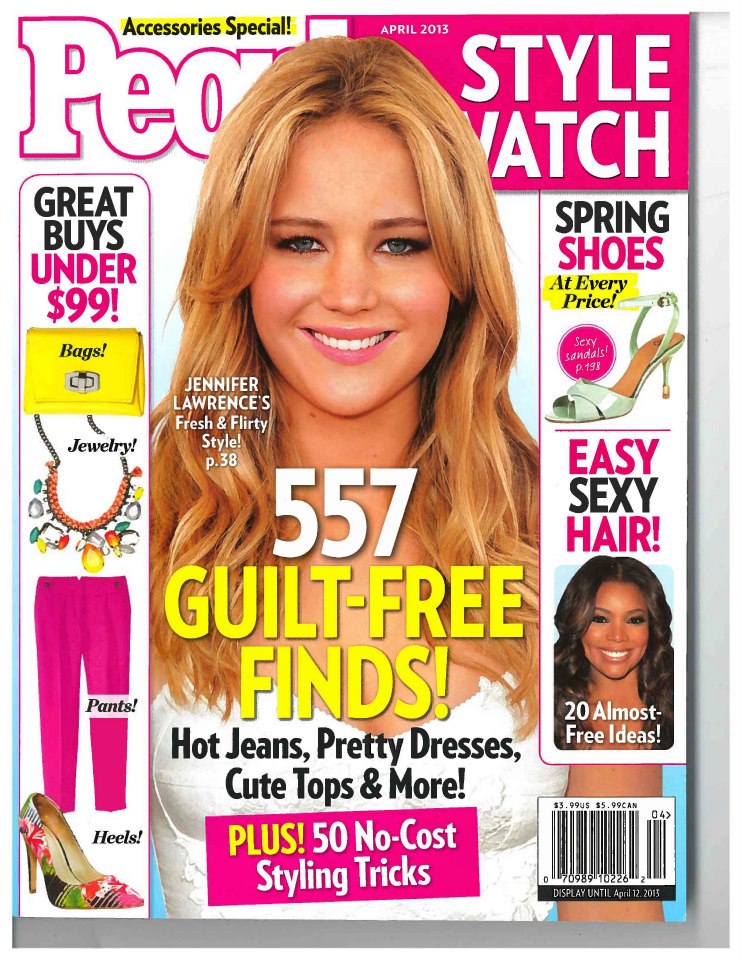 Closer look at the belt:
If you would like a closer look at the Natural Wonder belt or to purchase click HERE
Hue (The Alumni Magazine of the Fashion Institute of Technology) – Volume 6/Number 1/Fall/Winter/2012
Thank you so much to the Hue (The Alumni Magazine of the Fashion Institute of Technology) for writing a little feature about my entrepreneurial endeavors featured in the Fall/Winter 2012 issue.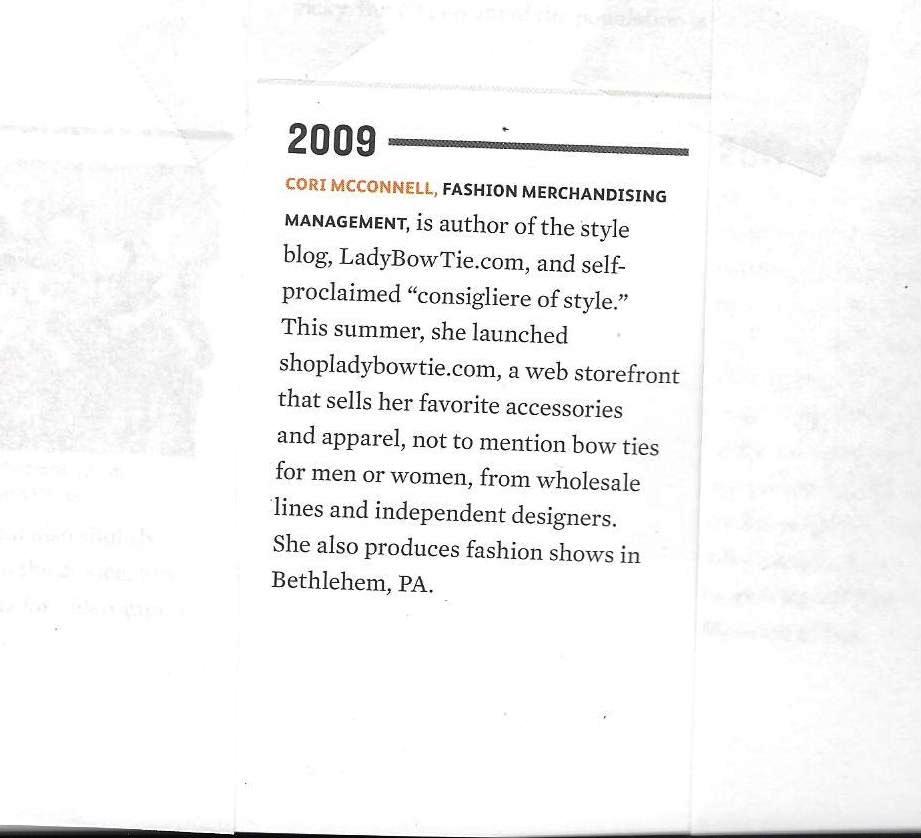 A special thank you to Jonathan for helping putting it all together, you rock!~Cori/LadyBowTie
Published on October 22, 2012 – Woman's World Magazine
On newsstands today! SHOPLadyBowTie's "Romantic Black Waist Belt" was featured on page 8 of the October 22, 2012 issue of Woman's World.
AMAZING! Thank you Woman's World!
And if you are interested I also offer a belt similar to the lovely model in the red dress and its reversible!
Click HERE to see all belts available at SHOPLadyBowTie
Published October 11, 2012 on LadyBowTie; Woman's World on Newsstands October 10, 2012
On newsstands today! SHOPLadyBowTie's "Romantic Black Waist Belt" was featured on page 8 of the October 22, 2012 issue of Woman's Day.
AMAZING! Thank you Woman's Day!
And if you are interested I also offer a belt similar to the lovely model in the red dress and its reversible!
Click HERE to see all belts available at SHOPLadyBowTie
Published July 28, 2012
Thanks Amy, fellow blogger, of For the Love of Fashion! Read her incredibly flattering blog post about LadyBowTie:
Never, in a million years did I think I would have my own fashion blog. But thanks to some fashion icons who inspire me and a fashion blog that inspired in many ways, this blog is here today to share with you!
Lady BowTie is a fashion blog that not only shows you peoples awesome outfits in NYC, or fashion shows, or the crazy window displays while strolling through the busy NYC streets, but it inspires you and gives you great ideas to be YOU! It encourages you to be brave with your choice of accessories and clothes. Try new things.
Cori, the writer of Lady Bowtie, also has her own shop (just press SHOP Lady BowTie at the top of the page) online with the coolest accessories you'll find! Check them out! She has free shipping to the States but she's now shipping to Canada! They are so fun and unique! You won't find them in your local Forever 21!
Check Lady BowTie out for yourself! Be inspired like I was!!
A
Published December 1, 2011
Straight from the pages of Lehigh Valley Style magazine, yours truly graced the pages. Check out my pic from the step-and-repeat at the Bethlehem Fashion Event – Runway Preview Party at Artfully Elegant in Bethlehem, PA
Joan: Cori of LadyBowTie, you look fabulous! Who are you wearing?
Cori: Well thank you Joan. Oh this old thing? Well, let me tell you, I am wearing a full length burn-out dress from H&M, a Stella & Dot (borrowed from my sister-in-law) necklace and motorcycle boots from 100 years ago by Sam & Libby. Are they still around, Sam & Libby that is?
Joan: I have no idea Cori but you look great.
Cori: Thanks again Joan, tell Melissa I said "Hello". Oh and you show is hilarious!
Ha! I've always wanted to do that. But it probably would of sounded more like. "Ummm….ahhh…hmmm….I dunno. Ahhh yeah..thanks." Complete brain freeze on the red carpet for sure.
Published November 20, 2011
Check it out, my first interview via Earned Beauty:
My friend and neighbor Cori, creator of fashion blog LadyBowtie, sat down with me for a one on one interview. Here's what she had to say about, her blog, her busy schedule and the future of LadyBowtie:
EB: LadyBowtie is such an inspiration to me, what was the inspiration behind Ladybowtie?
LB: Thank you, that is very flattering. *blush* I am so grateful for your support. The inspiration behind LadyBowTie, the short answer, is my love and appreciation of fashion design, make-up, shoes and personal style. Everyday I walk through Times Square, literally the cross roads of the world, and I am amazed and impressed by the personal style on display. I see trends forming right in front of my eyes, and I want to report those to you. It doesn't matter what brand it is, all that matters is that the person who is wearing it looks and feels incredible in it. That is what LadyBowTie is all about, enjoying the art of dressing.
EB: Do you consider yourself a fashion forward individual?
I do, although sadly, I haven't been too "forwardy" lately. My day job and my toddler chasing night job really doesn't foster a fashion forward environment. Ha! Hopefully, this fashion site thing goes well and in a couple of years and I can hang-up my sensible loafers and wear my cookie monster fur coat everyday to my new ridiculously cool LadyBowTie, LLC headquarters. The only thing you really need to be fashion forward and what I try to encourage through LadyBowTie is fearlessness. If you love it, wear it, and don't worry about what other people think.
EB: You are a first time mom, how do you handle a full time job, blogging and motherhood?
LB:The schedule is not easy. My typical day is: wake-up, workout, go to work, come home, be mom, put kid to bed, become LadyBowTie, put myself to bed – and repeat. Being motivated is #1, my LOVE for the content is #2 and being organized is #3. Every week I sit down and plan out my week for chores, for my kid, for my husband and for my blog. If I don't get everything done, I move it to the next week. It is vitally important to have that list or things just won't get accomplished. In the nature of full disclosure, at the end of the week I'm dog tired but I feel so good and accomplished it helps to keep me motivated for the week ahead.
EB: Has being a mom changed the way you view style and pragmatism?
LB: I don't think that parenthood has changed my personal style but, yes, it has changed my ideas in other ways. I am a proud mother of a daughter, step daughter and an aunt to a gaggle of nieces and I know that they are always watching. For example my 16 month old daughter watches and inspects me so closely when I'm putting on my make-up. She studies my movements and listens to me when I'm getting dressed and looking at myself in the mirror. I have to always be conscious of the message I am giving to them through my own actions and yes, how my business may affect them. I have to be a model of positive self-esteem and an example of a healthy woman. I have to create an environment where they will feel free to express themselves in all areas, including their dress, without putting all their value into their looks. Lets face it, fashion is about a lot of things but it is also about physical appearance and you have to tread very carefully when sharing this type of media with girls (and boys). I want them to really understand, that at the end of the day, clothing and make-up are not at all important. Their heads, their hearts and how they make a positive impact in the world is where their true beauty and style lie and that is the most imperative lesson of all.
EB: What will the future be like for Ladybowtie- your overall vision for the blogging site?
LB:LadyBowTie is like a speeding freight train flying down the tracks right now. There are so many things that I want to do with her and at the moment and so little time. Ha! My immediate vision is to keep writing fun addictive content, gain new loyal readers, learn more about web design so I can create an even cooler looking site and educate myself on monetizing effectively so I can earn a little bit of money. Long term, it has always been a dream of mine to have my own e-commerce site. Wouldn't it be cool if LadyBowTie sold clothes and handbags too? It would and it will! (See last bit about making $money$ first.) After the online shopping site, next comes a paper catalogue (I've always wanted one of those – print is not dead yet.), and then to follow a chain of brick and mortar stores. Dreaming big my friends, dreaming big!
Want to see more LadyBowTie? Go to www.Ladybowtie.com