Imagine the lights go down on a packed house of excited fashion fans. The music turns up and the beat gets every head and toe tapping.  The spotlight and the backdrop shine bright and dramatic as the first model struts the catwalk.  The crowd goes insane!
 This could be you, this could be your event, this could be your store, this could be your fashion show.  Hire us and we will show you how it is done.
 We are, Cori McConnell, e-retailer, style blogger and creator of LadyBowTie (www.ladybowtie.com) and Kate Falasca, boutique owner of SophistiKate (www.sophistikatebethlehem.com).   Together we have built an incredible team of fashion devotees dedicated to putting on coveted fashion events and fashion shows.   We have the fashion resumes and event experience to put on a ridiculously beautiful and fashion forward event tailored to your creative vision.
 Skills, Services and Connections (in alphabetic order):
 3rd Party Vendor Negotiation
Accessories Supply
Back-Stage Coordination
Catering
Choreography of Show
Decking & Draping (Runway Set-up)
Dressers
Event Space
Fashion Shows
Fashion Presentations
Fashion Styling/Look Consultation
Front-of-House Coordination
Garment Maintenance/Tailoring
Graphic Design
Hair & Make-up
Lighting & Sound
Marketing & Promotion
Model and Talent Agency
Music (Bands & DJs)
Photography
Printers
Social Media
Swag & Gift Bags
Videography
Wardrobe Supply
Web Design

References available
 We hope to hear from you soon.
 Dead serious,
 Cori & Kate
 Contact Us:  Phone (917) 301-7259  Email fashionshow@ladybowtie.com
 Don't just take our word for it, see what we can do.  Take a look at our greatest hits:
                             Lehigh Valley Business Group Ladies Fashion Brunch – May 4, 2014, Green Pond Country Club, Bethlehem, PA
I am proud to share with you photos from the Lehigh Valley Business Group's Ladies Fashion Brunch held on May 4, 2014 at the Green Pond Country Club in Bethlehem, PA. It was a lovely afternoon with a great group of local businesses coming together to support local community events and business cooperation. And of course the mimosas, great eats and fab fashion made the day perfect!
A few note worthy credits and thanks go out to:
LadyBowTie, LLC – Looks and fashion show production (Thank you Dressing team, you ROCK! and to my Aunt Suzie who made the SHOPLadyBowTie booth a success.)
SophistiKate – Looks
Behind the Seams – Looks
Lisa Chappell & Team – Hair & make-up artists (Thanks Rockie & Tara!)
Terree Yeagle of The Moment Photography – Photo credits
Natalia Stezenko – LVBG Event Coordinator
Image International - Models (You killed it ladies!)
Click HERE for the entire album or paste the below into your browser:
https://plus.google.com/photos/116617400544765189942/albums/6012992378437774145?authkey=CJu-oeDV-PiW8AE
October 24, 2013 – The St. Luke's University Hospital Auxiliary: Fashion for a Cause in Support of Get Your Tail On The Trail – Sands Outlets at the Sands Resort & Casino in Bethlehem, PA
A few pictures here and make sure to click the link below to see the entire collection from this fabulous fashion event! All photos credited and provided
by Terree Yeagle of The Moment Photography.
Click HERE to see the entire gallery from the fashion show or paste the following into your browser:
https://plus.google.com/photos/116617400544765189942/albums/5943612272010604385?authkey=CJu5p7uMkpfW_AE
Thanks again to all the models, dressers, hair & make-up and backstage staff for making this a perfect event. Thank you for the continuing support of the St. Luke's Auxiliary and their benefactors and guests who donate their time and funds to make this possible. Last but not least, thank you to the Sands Resort & Casino – Bethlehem, the Outlets at the Sands, SophisitiKate and LM Style Bar for providing the event location and all the stylish looks!
Subscribe to LadyBowTie.com (below) to stay up-to-date for upcoming fashion events and next year's Fashion For A Cause Fashion Show.
June 9, 2013 – Pre-Fall Fashion Brunch in Support of the Leukemia & Lymphoma Society in Bethlehem, PA
April 30, 2013 – Room to Grow Fashion Show at the Shoppes at the Sands in Bethlehem, PA
Please see the Room to Grow Fashion Show slideshow. Great time was had by all for a wonderful event. Thanks to your contributions the Bethlehem Library can continue their expansion efforts to make their library a more wonderful place!
Photo credit goes to the wonderful and talented Terree Yeagle of The Moment Photography
Original post below:
Will you be in the Bethlehem, PA area on April 30th? If so please take a minute to consider this wonderful charity event. The second annual Room to Grow Fashion Show in support of the renovation and expansion project for the Bethlehem Public Library being held at the Shoppes at the Sands Casino. Doors is 5:30pm with open bar, food (I've seen the spread and its impressive), exclusive shopping, access to the casino and of course a brilliant beach themed fashion show! GREAT MOTHERS DAY IDEA!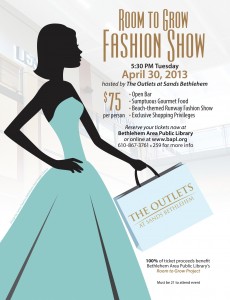 October 24, 2012 – The Auxiliary of St. Luke's University Hospital 25th Annual Fashion Show
To see the entire slideshow from the event click HERE
Participating stores: Tommy Hilfiger, DKNY, Guess, Van Heusen, SophistiKate, Bass, Under Armour, Talbots, Nine West, Hartstrings, Dress Barn, and more…
Video:
Fashion for a Cause: Fashion show at the Sands Casino Event Center in Bethlehem, PA
on
October 24, 2012 - 6:30pm
Click HERE for Tickets
From the site: The Fashion Show benefits the Artist in Residence program at St. Luke's, which utilizes creative activities to help cancer patients manage emotional and physical difficulties brought on by their disease.
The program began in 2010 thanks to a grant from the Lance Armstrong LIVESTRONG foundation. St. Luke's Cancer Center teamed up with ArtsQuest® and artist Karen Steen from the Banana Factory. Today the program reaches patients receiving chemotherapy and other infusion services at St. Luke's Cancer Centers in Allentown, Bethlehem and Anderson Campuses. Art therapy is also being offered for those receiving inpatient oncology care at St. Luke's University Hospital in Bethlehem.
If you have any questions about the 2012 Fashion Show or sponsorship opportunities, please contact:
Jennifer Van De Voorde 610-217-0982
LadyBowTie and SophistiKate will be sponsoring and co-producing the fashion show.
September 22, 2012 The Bethlehem Fashion Event
500 seat sold out show under the Celtic Classic Grand Pavilion Tent, hosted by the Bethlehem Chamber of Commerce in support of the Bethlehem Mounted Police Unit.  15 of Bethlehem, PA's premier boutiques participated showcasing 75 of their best Fall looks.  The backstage production included 36 models, 30 dressers and at least 12 hair & make-up staff from various salons in the area.  Truly a team effort to put on a show this grand.
Click here to see more photos from the show.
June 29, 2012 The Shoppes at the Sands Casino
On June 29th The Shoppes at the Sands Casino in Bethlehem, PA, will be hosting an invite only fashion show an cocktail party, co-produced by LadyBowTie and SophistiKate to introduce their new line-up: Tommy Hilfiger, Bass, Izod and Van Heusen. Standing room on the upper level of the mall available.
There is nothing better than looking at all the fashion show pics after a show. I'm backstage so I never actually get to see the show until days later when pictures start to roll in. I was lucky enough to have my husband in the audience to take a few snapshots for me so I could post them for you quickly. Professional photos from the Sands to follow. What a beautiful show full of fresh sporty summer looks from the Shoppes at the Sands in Bethlehem, PA. Produced by LadyBowTie and SophistiKate on June 29, 2012 featuring looks by Tommy Hilfiger, Izod, Bass, DKNY, Guess, Chicos, Talbots, Dressbarn, Under Armor, Van Heusen and Hartstrings.
THANK YOU to my wonderful team of hair & make-up, dressers, supervisors, models, the Sands management & crew and of course my partner Kate. It takes a lot of people to make a fashion show happen and each one of you played a critical roll in pulling this show off. Bravo!
Photo credit: John
Room to Grow Fashion Show – February 15, 2012 at Sands Casino in Bethlehem, PA
On February 15, 2012 myself, Kate of SophistiKate and an amazing team of backstage staff and models put on a brilliant fashion show at the Sands Casino Bethlehem, PA to support the Bethlehem Area Public Library's renovation project by selling out the event and raising over $25,000! If this sounds like something your charity, organziation or store would be interested in doing please contact me at fashionshow@ladybowtie.com and I will be happy to discuss with you how we can make it happen for you.  Please take a look a the video clip to get a feel for the set-up and production of this incredible event.~Cori
Thank you Rocky Ulrich Productions for great clip.
Rocky Urich Productions – BAPL Fashion Show Recap 2012 from Rocky Urich Productions on Vimeo.
To see more pictures from the Room to Grow Fashion Show click HERE
Room to Grow Fashion Show Slide Show
This event, the Room to Grow Fashion Show at the Sands Casino in Bethlehem, PA, was a SMASH! What a great cause for the Bethlehem Area Public Library renovation project and a STELLAR team I worked with this past week (Feb. 15th). I can't wait to do it again! Here is a slideshow of the incredible Spring looks from Guess, Chicos, SophistiKate, Jane Roncoroni and DKNY. A big THANK YOU to Terree Yeagle of The Moment Photography and Lehigh Happening for the amazing runway pics.
To see a full slideshow of the looks from the event click HERE.
Bethlehem Fashion Event – October 15, 2012 on Main Street, Bethlehem, PA
 As many of you know, last Saturday, October 15th, I had the pleasure of working with an incredible team of event staffers, models and volunteers to help launch the first ever Fashion Event in Bethlehem, PA. Amazing! is the very least I could say about this production. We put on 8 fashion shows hosted by 10 different local boutiques and the response was overwhelmingly positive. THANK YOU to everyone who came out to watch the shows and THANK YOU again to everyone who made it happen! I look forward to next year's Fashion Event.
All pictures credited F. Gonzalez/LadyBowTie (Thanks Faith!)
And without further ado, I would like to present to you my fashion picks from Saturday's Fashion Event:
Three links to see more pics from the Bethlehem Fashion Event click HERE, HERE and HERE.