Hello everyone!  This is a little off topic but I wanted to share with you my most recent DIY (do-it-yourself-project) project.  The reason I'm posting this is because 1) I've found my personal interest expanding (beyond fashion) 2) everyone has some old junky piece of furniture that although its still good and functional the style is lacking.  Recently I painted and decoupaged my desk that Mr. LadyBowTie made for me a few years ago.  I loved my work station but my young daughter had drawn on it and it just was not very stylish.  I've become inspired by some Pinterest pins to re-do this desk and I finally made the trip to the hardware store to get what I needed to turn my desk into something more fun.  Although its not perfect, I love it. And for a first timer I'm really pleased with how it turned out and more importantly I learned something about painting laminate furniture.  Dedication: This post goes out specifically to all those people out there that are hanging on to their old Ikea (no offense Ikea) furniture that they still use but could use a face lift.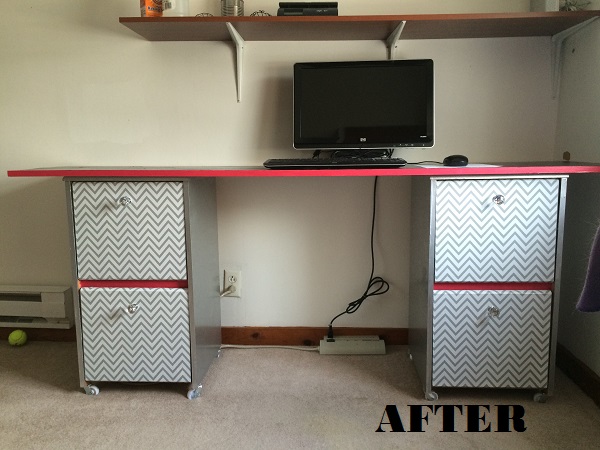 I will do a very short list of what I used to cover my desk: 1) Primer (over all surfaces) 2) Drawer fronts: Shelf-paper or contact paper used typically to line drawers 3) Sides: Silver metallic all weather (oil based) paint 4) Top: High gloss black paint (water based) 5) Accent: Pink (water based) paint – "mistake" sample jar shelf at Home Depot 6) Sealer: Polyacrylic (water based) all over the entire desk after the paint and paper dried 6) Drawer pulls – crystal ball drawer pulls
Mod Podge – to "wallpaper" the contact paper to the drawer fronts
Since this is the first time I'm posting this kind of project on LadyBowTie I'm not going to bore you with all the details but if there is a great interest I certainly and gladly will.  Let me know if you would like to know more about this desk painting project…comment, email cori@ladybowtie.com, Facebook.com/ladybowtie, Twitter, etc.